THE LANGUAGE AND THINKING
EVENT SERIES
AT BARD COLLEGE, AUGUST 2016
Plenaries and Rostrums
---
The Meaning of a Meaningful Life: Some Thoughts on Anxiety, Significance and Vulnerability
A Lecture and Discussion with Jonathan Lear
The idea of a meaningful life suggests not just a life full of meanings, but a worthwhile life. But what is it about a worthwhile human life that ties it to meaning? And what is it about meaning that makes our lives vulnerable? In this lecture Professor Jonathan Lear (University of Chicago) will develop his ideas from his book Radical Hope: Ethics in the Face of Cultural Devastation. The talk will range from ancient Greek conceptions of happiness, to the devastation inflicted on Native Americans and indigenous peoples, to anxieties about vulnerability and change that are present throughout America today.
Jonathan Lear Jonathan Lear is the John U. Nef Distinguished Service Professor in the Committee on Social Thought, and in Philosophy at the University of Chicago. He also serves as the Director of the Neubauer Collegium for Culture and Society. His books include Radical Hope: Ethics in the Face of Cultural Devastation, Aristotle: The Desire to Understand and Freud. His new book Wisdom Won From Illness will be published this winter. Professor Lear is also a trained psychoanalyst and he sees patients in private practice.
How Drones See

Just like L&T students, drones are increasingly being taught how to learn on their own. This talk will explore cutting edge developments in the field of artificial intelligence and autonomy, focusing on efforts to teach drones to learn for themselves their surroundings, and then make complex decisions based on environmental factors. Students will be introduced to a broad variety of military and civilian research initiatives, and will consider the many potential applications of highly autonomous robots (for example, in emergency response missions, or for delivery services, or surveillance operations).
We will focus on initiatives that are seeking to teach drones how to 'see,' either by sensing their environments or by 'reading' images using computer vision algorithms. By reflecting on the idea of drone vision as it becomes increasingly sophisticated and powerful, this talk will seek to complicate our understanding of the philosophical concepts of 'seeing' and aesthetics, and challenge students to consider what it means for our notions of these concepts when images can be 'read' and 'understood' by machines without any human intervention.
This talk will integrate Vannevar Bush's "As We May Think," Thomas Kuhn's Preface & Chapter VI from The Structure of Scientific Revolutions, Gertrude Stein's "Composition as Explanation," Wallace Stevens' "Thirteen Ways of Looking at a Blackbird." The workshop will be led by Arthur Holland Michel, who is the co-director of the Center for the Study of the Drone at Bard College, a research and education initiative that explores the opportunities and challenges associated with unmanned systems technology in both civilian and military spheres.
Arthur Holland Michel is the co-director of the Center for the Study of the Drone. He has written about drones, robotics, and defense for Wired, Al Jazeera America, Vice, Fast Company, US News, The Verge, Mashable, and Bookforum, among others. He graduated from Bard in 2013 with a degree in history.
Drones and the Experience of Warfare

Over the course of human history, the experience of warfare has remained relatively constant, a central tenet of human experience: it is bloody, traumatizing, violent, and adrenalizing.  But in 2016, in an airbase in Nevada, US Air Force pilots, sitting in small 'ground control stations' operate armed drones over several conflict zones thousands of miles away, watching closely, and, sometimes, firing upon the enemy.  At the end of their shifts, these pilots return to their homes in the suburbs of Las Vegas, where they are expected to contend with all the minutia of domestic life; their minds, though, are still at war.
We might therefore ask ourselves: In what ways does this represent a radical departure from warfare of the past, and what does this mean for the ways that war is understood and perceived? In this talk, students will be introduced to the realities of drone warfare today—how it complicates our understanding of war on a social, cultural, and institutional level. Students will explore whether, indeed, remote warfare counts as war, or if it represents an entirely new category of human experience.
This presentation will integrate selections from Susan Sontag's Regarding the Pain of Others and Manuel Castell's "The Spirit of Informationalism." Led by Dan Gettinger, a founder and the co-director of the Center for the Study of the Drone at Bard College, a research and education initiative that explores the opportunities and challenges associated with unmanned systems technology in both civilian and military spheres.
Dan Gettinger is a founder and the co-director of the Center for the Study of the Drone at Bard College. He has written extensively on unmanned systems technology, military strategy, and foreign affairs. Dan graduated in 2013 from Bard College, where he studied politics.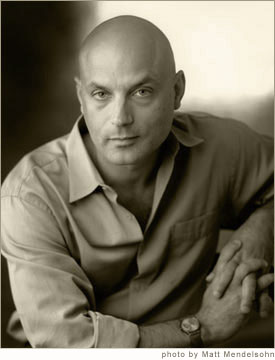 Euripides' "The Bacchae": A Lecture and Discussion with Daniel Mendelsohn
Euripides' The Bacchae makes extraordinary and unsettling claims about beauty, divinity, desire, violence, justice, prophecy, kinship, love, and the place of human beings in the cosmos. Much of the play's originality and power revolve around Euripides' rendering of Dionysus, a young new god at odds with a young new prince who is also his cousin, and their divided loyalties towards Thebes. In this lecture and discussion, Professor Daniel Mendelsohn (Classical Studies) will discuss Euripides with a view toward the broader traditions of ancient Greek tragedy.
Daniel Mendelsohn is an award-winning author, critic, and translator. His essays, reviews, and articles appear in many publications, most frequently in The New Yorker, The New York Review of Books, and Harpers, for which he contributes a column about culture. He has also been a columnist for the New York Times Book Review and for New York magazine, where he was the weekly book critic.
Contemporaneous: New Music and Story Telling

Contemporaneous will perform music for film by Ennio Morricone and David Lang. Led by Contemporaneous, students will examine clips from films by Sergio Leone and Paolo Sorrentino and consider how the music influences their experience. Through attention to performance, students will gain insight into the invisible force responsible for the emotional structure of a movie — the score. Questions about the manipulation of audience through storytelling will be considered. When is fiction a story and when is it a lie? How can music affect the "suspension of disbelief"?
Contemporaneous is an ensemble of 21 musicians that includes many recent Bard graduates and whose mission is to bring to life the music of now.
Dylan Mattingly, a native of Berkeley, California, holds a B.A. in Classical Greek and a B.M. in Music Composition from Bard College where he studied with George Tsontakis, Kyle Gann, John Halle, and Joan Tower. Mentored as well in Berkeley by composer John Adams, his music has been performed in San Francisco, Sydney, Berlin, New York, London, and many other cities around the world. He currently attends the Yale School of Music, where he studies with David Lang.
David Bloom is founding co-artistic director of Contemporaneous, a New York-based ensemble of 21 musicians dedicated to performing the most exciting music of the present moment, and recently lauded in New York Times for a "ferocious, focused performance." A devoted advocate for new music, he regularly works with living composers to bring new and recent works to life. David has conducted over 120 world premieres at such venues as Carnegie Hall, Lincoln Center, (le) poisson rouge, Merkin Concert Hall, and the Bang on a Can Marathon. He is a frequent guest conductor for NOW Ensemble, Hotel Elefant, JACK Quartet, Mantra Percussion, and TILT Brass, among others. He has worked with such composers as Donnacha Dennehy, Michael Harrison, Gabrielle Herbst, Yotam Haber, Dylan Mattingly, Andrew Norman, and Aaron Seigel and regularly works outside of the classical realm with such artists as Jherek Bischoff, David Byrne, and Courtney Love.
Especially active as a conductor of new opera throughout the US and Canada, David currently serves as music director on three traveling productions of works by Judd Greenstein, Anthony Gatto, and Todd Almond. He has recorded for the Innova, New Amsterdam, Mexican Summer, Mona, and Starkland labels. Also a passionate teaching artist, David is a conductor for Face the Music and Special Music School, and along with Contemporaneous, he is in residence at his alma mater, Bard College.
The Invasive Plant "Phragmites" (Common Reed): Enemy with Benefits?: A Lecture and Discussion by Erik Kiviat
What makes a species "native" or "invasive"? Is it a question of origins or a question of biological traits? Professor Erik Kiviat (Director, Hudsonia) will critically examine the notion of "invasive species" through a case history of the common reed. Invasive plants are a big ecological concern because they affect biological diversity and ecosystem services—what we get from the environment. On closer look, some weeds are actually much more benign or useful than most people think. This presentation analyzes one such species, common reed: what it harms or helps and how we can manage it for the benefit of people and wildlife. Non-native species are not all bad, and biologists must resist the impulses of nativism or xenophobia in their classifications of species and empirical research on environmental change.
Erik Kiviat, PhD, is a lifelong resident of the Hudson Valley and cofounder of Hudsonia at the Bard College Field Station, a nonprofit institute for research, education, and technical assistance in the environmental sciences. A certified wetland scientist, he has more than 40 years' experience with natural history and environmental issues in the Northeast, and elsewhere in North America. He also has worked extensively with policy-makers, land use planners, and environmental managers.
Throughout his career, Erik Kiviat has been teaching professionals and students. He also has authored or coauthored 80 publications and 200 technical assistance reports on wetland ecology, rare species, conservation science, invasive plants, Hudson Valley natural history, and human ecology. He is author of The Northern Shawangunks: An Ecological Survey; Hudson River East Bank Natural Areas; and Hackensack Meadowlands, New Jersey, Biodiversity: A Review and Synthesis; and coauthor of Biodiversity Assessment Manual for the Hudson River Estuary Corridor.
THE AMERICAN SYMPHONY ORCHESTRA, conducted by LEON BOTSTEIN
President of Bard College and Leon Levy Professor in the Arts and Humanities
Music and Fascism in Italy: An American Symphony Orchestra Rehearsal, conducted by President Leon Botstein
Led by conductor and Bard College President, Leon Botstein, the American Symphony Orchestra will perform works by Giacomo Puccini (Hymn to Rome), Ildebrando Pizzetti (Sinfonia del fuoco), Alfredo Casella (Elegia eroica, Op. 29), Luigi Dallapiccola (Partita for Orchestra), and Goffredo Petrassi (Magnificat). Before the rehearsal, President Botstein will highlight selections from the program to help the audience understand what they are hearing and what to listen for.
Leon Botstein has been music director and principal conductor of the American Symphony Orchestra since 1992. He is also music director of The Orchestra Now, an innovative training orchestra composed of top musicians from around the world. He is co-artistic director of Bard SummerScape and the Bard Music Festival, which take place at the Richard B. Fisher Center for the Performing Arts at Bard College, where he has been president since 1975. He is also conductor laureate of the Jerusalem Symphony Orchestra, where he served as music director from 2003–11. In 2018 he will assume artistic directorship of Grafenegg in Austria.
Now in its 55th season, the American Symphony Orchestra was founded in 1962 by Leopold Stokowski, with a mission of making orchestral music accessible and affordable for everyone. Music Director Leon Botstein expanded that mission when he joined the ASO in 1992, creating thematic concerts that explore music from the perspective of the visual arts, literature, religion, and history, and reviving rarely-performed works that audiences would otherwise never have a chance to hear performed live.
Food, Farming, and Sustainability at Annandale
This panel features Professor Kris Feder (Economics), Professor Katrina Light (Director, Food Sustainability), Professor Paul Marienthal (Director, Trustee Leader Scholar Program), and John-Paul Slivan (founder and coordinator, Bard College Farm). The panelists will pose hard questions about the global economics of food sustainability and introduce students to the various food systems at Bard, including the history of the Bard College Farm. The panel explores the links between local sustainability efforts at Bard and the larger problems of food production in an era of looming ecological crisis.
Second Person Plural: Images, Texts, and Addressees: A Language & Thinking Faculty Panel Inspired by Claudia Rankine's "Citizen"
Claudia Rankine's Citizen opens with a series of vignettes, written in the second-person plural, that recount everyday instances of radicalized micro-aggression. Who, this panel will ask, is the 'you' these texts invoke? And who are 'we' to say? What do we mean when we say 'we' and 'who' do we address when we say 'you'? Who are we as addressees? What assumptions, exclusions, responsibilities, freedoms, and limitations are entailed by our various forms of inclusion (elective or otherwise), exclusion (elective or otherwise), and interpellation. We often assume that we are citizens of nations, states, regions, communities, a planet, a campus and college community… But what's the difference between a citizen and subject? This panel features Language and Thinking Faculty Stephen Cope, Donna Ford Grover and Kristy Morris.
Anthologies, Archives, Canons, and the Question of Difference
Archives preserve and represent memories, perceptions, feelings, lived attachments, and other forms of knowledge that are vulnerable to the passage of time. But archives are also recast and even altered according the pressures of the present moment. Who has the right to change the archive? What does it mean to compose or anthologize archives with new energies and fresh imperatives? How can literary and other canons be re-arranged and re-centered around new problems, voices, places, and critical concerns?
Professor Dawn Lundy Martin (University of Pittsburgh) and Professor Erica Hunt (Wesleyan University) will critically explore how Anthologies and kindred projects are (un)made, with special attention to how archival impulses reimagine difference. Professor Martin will also discuss her essay, "The Long Road to Angela Davis' Library," featured in the Language and Thinking Anthology. Co-sponsored by the Difference and Media Project.
Erica Hunt is currently Visiting Assistant Professor at Wesleyan University, and works at forefront of experimental poetry and poetics, critical race theory, and feminist aesthetics. She is author of books of poetry and chapbooks including Arcade with artist Alison Saar, Piece Logic, Local History, Time Flies Right Before the Eyes, and A Day and Its Approximates. Her essays on poetics have been collected in Moving Borders: Three Decades of Innovative Writing by Women and The Politics of Poetic Form, among other anthologies.
Poet and activist Dawn Lundy Martin earned a BA at the University of Connecticut, an MA at San Francisco State University, and a PhD at the University of Massachusetts Amherst.
Her poetry collections include Discipline (2011), chosen by Fanny Howe for the Nightboat Books Prize, and A Gathering of Matter/A Matter of Gathering (2007), which was selected for the Cave Canem Poetry Prize by Carl Phillips and was a finalist for the Lambda Literary Award. Precise, tender, and unflinching, Martin's work is at once innovative and emotionally fraught. Fanny Howe described the poems in Discipline as "dense and deep. They are necessary, and hot on the eye."
With Vivien Labaton, Martin coedited The Fire This Time: Young Activists and the New Feminism (2004). She also cofounded both the Third Wave Foundation and the post-theorist Black Took Collective. She has received the Academy of American Arts and Science's May Sarton Prize for Poetry as well as grants from the Massachusetts Cultural Council. Martin has taught at the University of Pittsburgh, The New School, and Bard College.
Ecopoetics: Believing and Doubting the "Nature Poem:" A Lecture and Discussion with Jonathan Skinner and Gillian Osborne
"Ecopoetics" has been defined as an exploration of "the creative-critical edges between making (with an emphasis on writing) and ecology (the theory and praxis of earth household relations)". This panel will ask: "How does writing figure in human-animal relations?" "What does it mean to think of the earth as a text?" and "How can we look forward through the dynamic of these relations?" The panel will feature discussion, debate, and readings about Ecopoetics past, present, and future with Professors Jonathan Skinner (University of Warwick) and Gillian Osborne (Harvard University.)
Dr. Jonathan Skinner is Associate Professor and teaches on the English and Comparative Literary Studies program. His interests include Contemporary Poetry and Poetics; Ecocriticism and Environmental Studies; Ethnopoetics; Sound Studies; Critical Theory; and Translation. He is founder and editor of ecopoetics, a journal which features creative-critical intersections between writing and ecology.
Gillian Osborne is a literary scholar whose research interests include American and Romantic literature, poetry and poetics, and the environmental humanities.
Gillian holds a B.A. in Comparative Literature from Columbia University (2006), and a Ph.D. in English and American Literature (2014) from the University of California, Berkeley. In her dissertation, she examined a poetics of the "inhuman" across genres in the American nineteenth-century, arguing that writers from Sampson Reed in the 1830s to Herman Melville in the 1890s relied on plant-life as a figure for literary form and aesthetic agency as permeable and bare. While at Berkeley,
Hannah Arendt and the Meaning of Political Action: A Lecture and Discussion with Roger Berkowitz
In The Human Condition, Hannah Arendt writes, "Action and speech are so closely related because the primordial and specifically human act must at the same time contain the answer to the question asked of every newcomer: "Who are you?". Professor Roger Berkowitz, Director of the Hannah Arendt Center for Politics and the Humanities, will explore Arendt's concept of "action," thinking through action's connections to speech, natality, plurality, and worldliness. Professor Berkowitz will also address the question of difficult political speech and its vital connection to the public realm.
Roger Berkowitz is Academic Director of the Hannah Arendt Center for Politics and Humanities and Associate Professor of Politics, Human Rights, and Philosophy at Bard College. His research focuses foremost on questions of justice and jurisprudence, the history and philosophy of science, the relationship of politics and aesthetics, and on the philosophies of Heidegger, Nietzsche, Kant, Plato, Aristotle, and Arendt. In addition to numerous articles, essays, and reviews, he has authored the book The Gift of Science: Leibniz and the Modern Legal Tradition (2005), an account of how the rise of science has led to the divorce of law and justice. He has edited a special issue of Law, Culture, and the Humanities on the theme of "Revenge and Justice" (2005) and is the co-editor of Thinking in Dark Times: Hannah Arendt on Ethics and Politics (2009) and The Intellectual Origins of the Global Financial Crisis (2012).
Professor Berkowitz regularly blogs at www.vernunft.org, has recently reviewed the film Hannah Arendt in The Paris Review and has commented on the debates initiated by in the film in a piece for The New York Times titled "Misreading Eichmann in Jerusalem."
Race in the Everyday: Activism, Social Justice, and Political Organizing
How do we understand race in contemporary America, not only in light of the violence that has (finally) caught national headlines, but in terms of our own communities? What can 'change-making' or political action look like in our own neighborhood and local institutions? And how do we understand our own participation in relation to larger movements that are focused on racially-motivated violence, police brutality, and widespread social injustice? This panel of community leaders and experts from the region will address these questions with an emphasis on practical activity and student involvement. Speakers will include Quintin Cross, SBK Hudson; Joan Hunt, Promised Neighborhoods; Mariel Fiori, La Voz; Alexandra Cox, SUNY New Paltz; and Callie Jayne, Citizen Action of New York.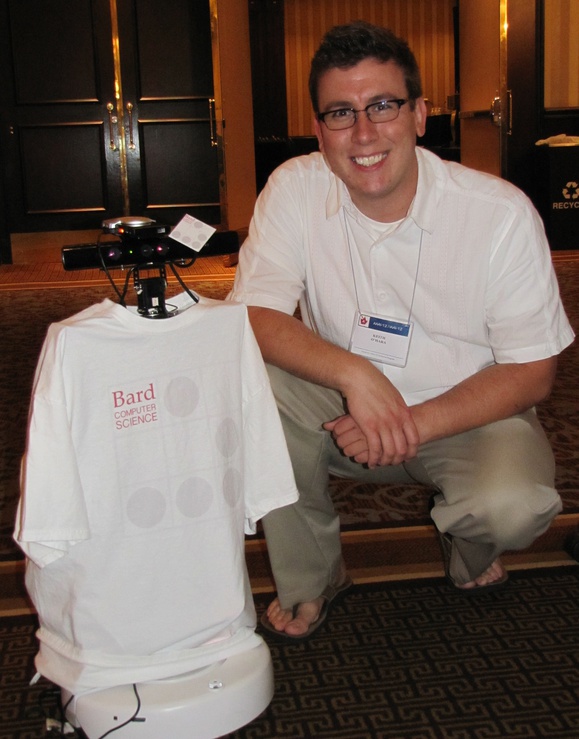 Coding Computers – Beyond Language: A Lecture and Discussion with Keith O'Hara
What, if anything, is the difference between so-called natural and artificial language? What does it mean for artificial languages to translate between human and machine users and audiences? What assumptions about language do artificial languages challenge or revise? In this talk, Professor Keith O'Hara (Computer Science) will discuss coding and the problem of 'machine language.'
Keith O'Hara has directed the draB lab (distributed robotics @ bard)
since 2009. Research in the draB lab is at the boundary between the real, physical world and the computational world; the works lives at the intersection of intelligent systems, robotics, and interactive software systems research. He has published articles in the IEEE Transactions on Robotics, Pervasive Computing, ICRA, SIGCSE, and Journal of Computing in Small Colleges. Hailing from South Jersey, Prof. O'Hara earned a B.S. from Rowan University and M.S. and Ph.D. degrees from the School of Interactive Computing at Georgia Tech where he was an Intel Foundation Fellow and a Presidential Fellow.
The Cataclysmic Dancing of Black Holes: A Lecture and Discussion with Hal Haggard
Black holes are regions in space and measures of time from which nothing can escape. They are radiant and dynamical and even have a temperature; they are wholly unexpected creatures. They do not inexorably suck up everything as they are sometimes caricatured as doing. They can be tiny, and they can be huge, but they are so far away that we are only beginning to glimpse them now. They lock a certain kind of infinity away in their hearts that we desperately want to grasp. What happens inside a black hole? Can they teach us a new understanding of space and time? Are they immortal?
This year, the very first measurements of ripples in the fabric of spacetime—gravitational waves—were reported. These measurement, thrilling in their own right, not only confirm Einstein's prediction of spacetime ripples, but provide the first observations of pairs of black holes that dance and merge in the sky.  In this talk, Professor Hal Haggard (Physics) will recall the surprising history of Einstein's prediction and explain why we are on the cusp of a completely new understanding of black holes and the cosmos in which they reside.
Dr. Hal Haggard is a theoretical physicist at Bard college who studies the conceptual and practical questions that surround building a quantum theory of gravity. He is interested in how black holes evolve in time and has suggested that Hawking radiation is not the whole story. He has explored the possibility that space is fundamentally discrete and made of indivisible grains of space and has pioneered the study of quantum chaos in quantum gravity. Haggard was a co-founder of the award winning Compass Project, dedicated to improving undergraduate physics education and increasing the retention of underrepresented students in the physical sciences. He was a National Science Foundation International Research Fellow in Marseille, France and is currently enjoying working on an International Space Sciences Institute grant mapping exoplanets with a team of astronomers.
Implicit Bias: A Lecture and Discussion with Kristin Lane
 What does it mean to be "nonprejudiced?" In this talk Professor Kristin Lane (Psychology) will share demonstrations and data showing how our minds can operate without intention or awareness. These demonstrations and research raise questions about what it means to be "nonprejudiced" – although a person can genuinely hold no explicit (more conscious ) animosity based on race or ethnicity, he or she may hold implicit (less conscious ) biases that are discrepant from these self-reported beliefs. We will explore the pervasiveness of such biases and the ways that they can influence behavior in unintended and unrecognized ways, thus giving rise to group-level disparities, and conclude by thinking about how such biases can be reduced.
Mining Tony Oursler's "Imponderable" Archive: A Lecture and Discussion with Susan Aberth
Bard College's Center for Curatorial Studies is currently presenting Imponderable, an extensive research project, exhibition, film, and publication that investigates the personal collection of American artist Tony Oursler. As stated in the press release, "This remarkable trove of more than 2,500 photographs, documents, publications, and unique objects, tracks a social, spiritual, and intellectual history dating back to the early eighteenth century. The project's title, Imponderable, suggests the idea of something that cannot be determined with accuracy. Eighteenth-century scientists used the word to describe magnetism, electricity, and other unquantifiable energies, many of which are represented in Oursler's archive. The 'imponderable' also suggests an area of open speculation populated by numerous conflicting belief systems.
Additionally, Oursler is interested in how even the most incredible ideas can be presented in such a way that they convince the audience of their veracity. The landscape of the archive covers numerous categories such as: stage magic, thought photography, demonology, cryptozoology, optics, Mesmerism, automatic writing, hypnotism, fairies, cults, pareidolia, the occult, color theory, and UFOs. Oursler's initial research into these fringe practices of media histories and occult phenomenon led the artist further into ideas of speculative thought, the boundaries of science, the use of the spectacular, all of which resonate with contemporary pop culture." Professor Susan Aberth (Art History) will focus on certain aspects of Oursler's collection, pulling specific images from his archive and then providing a brief visual history of such movements as Spiritualism, Freemasonry, occultism etc., particularly within the landscape of American popular culture.
Performance Workshop: "Thinking Through Movement" with Jean Churchill and Peggy Florin
 Professor Jean Churchill (Dance) and Professor Peggy Florin (Dance) will lead this workshop, which will explore how our bodies express and communicate through movement. Movement is a language. We can learn to listen for the meaning of this language & so become as precise as possible in our investigation and understanding of physical expression. A continuous moving warm-up will start the class, developing a rhythmic flow of motion and the kinetic feel of moving in space. We will pose short movement problems that address how change continually takes place in our bodies in time and in sync with the shifts of thoughts and feelings. We will divide into groups to make short compositions from guided prompts.
Student-Led Civic and Community Engagement
Student-led activism and engagement is a cornerstone of the Bard experience. In this panel, student leaders consider the most critical questions related to community-based work. Can one person make a difference? How do we know we are doing "good" in a community? What does it mean to be a change agent? The panel features student program leaders and Professor Paul Marienthal (Director, Trustee Leader Scholar Program at Bard) and Emma Kreyche (Worker Justice Center of New York.) Co-sponsored by the Center for Civic Engagement.